Chiropractic is a very effective treatment for back pain, but what many patients don't realize is that they can stretch to make it even better. By employing simple stretches, a chiropractic patient can improve his or her range of motion and increase flexibility. These are some great stretches that you can do at just about any fitness level.
Stretch
Knee To Chest
Lie on a firm, flat surface for this exercise. You can place a mat or towel underneath you to make it a little more comfortable. If you aren't able to flatten your back right away, fold a small towel and place it under the small of your back to provide a little support.
Lie on your back, knees bent so that your feet are flat on the floor.
Press your lower back into the floor.
While keeping your left foot on the floor, inhale, bringing your right knee to your chest, pulling gently just until you feel a stretch. Hold it for 20 to 30 seconds. You can also keep your left leg straight if that is more comfortable. Make sure you keep your back pressed to the floor.
Exhale, releasing your right knee and return to the starting position.
Repeat the movement with the left leg.
Repeat this stretch 3 to 5 times with each leg.
Child's Pose
This gives you a very nice stretch all through your back. If you are unable to get on your knees or if you can't sit on your knees, you can do this while standing.
Hold onto the back of a chair and bend forward. Don't pull and don't rest put all of your weight on the chair, just let your body fall gently forward with your neck relaxed and your head drooping. Take baby steps backward until you feel a good stretch, then hold it while breathing normally for 20 to 30 seconds. Walk your feet back in a bit to keep your balance and stand. Repeat 4 or 5 times.
Get on your hands and knees, keeping your knees a little wider than your hips. Turn your toes inward so that they touch.
Bend your knees, pushing your hips back over your heels. Get to a comfortable sitting position.
Slowly slide your arms out in front of you, rounding out your back as you exhale. Keep your neck relaxed so that your head falls forward. Allow yourself to feel the stretch throughout your back.
Hold for 20 to 30 seconds then return to the sitting position.
Repeat the movement 4 or 5 times, keeping your movements slow, fluid, and deliberate.
Cat – Camel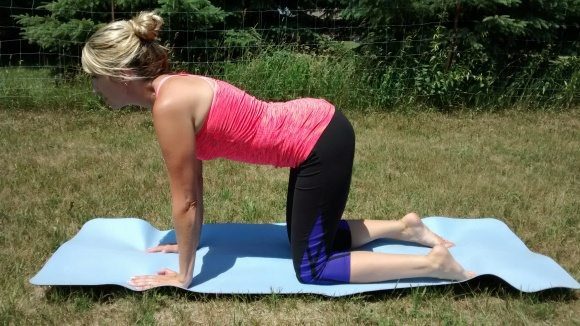 If you can't get on your knees, stand in front of a chair and place your hands on the seat. Position your feet about where your knees would be if you were on your hands and knees. Relax your neck, allowing your head to droop. Complete steps 2 through 5.
Get on your hands and knees, back straight, your hands shoulder width apart, and your knees slightly apart. Relax your neck so that your head droops. Breathe normally.
Exhale as you round your back up toward the ceiling. Press until you feel a good stretch all along your back. Hold for about 20 to 30 seconds.
Return to the starting position, keeping your back straight.
Inhale as you sway your back, pushing your stomach toward the floor. Tilt your pelvis to get a maximum stretch. Hold for 20 to 30 seconds.
Repeat the full sequence 3 to 5 times.
Injury Medical Clinic: Rehabilitation
Chiropractor & Functional Medicine Practitioner ⚕Injury & Sciatica Specialist • Author • Educator • 915-850-0900 📞
We Welcome You 👊🏻.
Purpose & Passions: I am a Doctor of Chiropractic specializing in progressive, cutting-edge therapies and functional rehabilitation procedures focused on clinical physiology, total health, practical strength training, and complete conditioning. We focus on restoring normal body functions after neck, back, spinal and soft tissue injuries.
We use Specialized Chiropractic Protocols, Wellness Programs, Functional & Integrative Nutrition, Agility & Mobility Fitness Training and Rehabilitation Systems for all ages.
As an extension to effective rehabilitation, we too offer our patients, disabled veterans, athletes, young and elder a diverse portfolio of strength equipment, high-performance exercises and advanced agility treatment options. We have teamed up with the cities premier doctors, therapist and trainers to provide high-level competitive athletes the possibilities to push themselves to their highest abilities within our facilities.
We've been blessed to use our methods with thousands of El Pasoans over the last three decades allowing us to restore our patients' health and fitness while implementing researched non-surgical methods and functional wellness programs.
Our programs are natural and use the body's ability to achieve specific measured goals, rather than introducing harmful chemicals, controversial hormone replacement, un-wanted surgeries, or addictive drugs. We want you to live a functional life that is fulfilled with more energy, a positive attitude, better sleep, and less pain. Our goal is to ultimately empower our patients to maintain the healthiest way of living.
With a bit of work, we can achieve optimal health together, no matter the age or disability.
Join us in improving your health for you and your family.
It's all about: LIVING, LOVING & MATTERING! 🍎
Welcome & God Bless
EL PASO LOCATIONS
Central:
6440 Gateway East, Ste B
Phone: 915-850-0900
East Side:
11860 Vista Del Sol, Ste 128
Phone: 915-412-6677