Thinking About Going Vegan Or Paleo?
Proponents of specific food class-centric diets such as paleo, vegan, gluten-free, ketogenic, or the Mediterranean diet often but not always tend to prescribe their plans for everyone. Not so fast, says a group from the University of California, Berkeley. Biologists at UC Berkeley and other institutions around the world have published research that shows genetic differences from natural selection based on dietary changes in Europe, Ars Technica reports.
According to the research, for example, if you live in Europe, and particularly in southern Europe, your body is optimized to digest and process plant-based diets. Natives of Greenland, specifically the Inuit, are better at processing meat fat.
More: Looking for a paleo or gluten-free meal kit? Sun Basket delivers the goods
The researchers compared genomes from hundreds of contemporary humans and 101 genome sequences from Bronze Age humans who lived in Europe 5,000 years ago. They found DNA changed significantly in the last 5,000 years.
The science behind the studies is based on examining two genes that regulate how fatty acids in foods are converted into the "long-chain" form used by humans for tissue health, including the brain and muscles. Plants such as wheat and vegetables provide "short-chain" fatty acids and must be converted to the long-form type in order for the human body to use them.
In its genome studies, the researchers found that southern European genomes mutated to produce more long-chain fatty acids from the shorter variation. This change, they argue, is due to evolutionary "pressure" from a diet that changed to accommodate more plant-based foods. The Inuit genome, however, had no such influence, which means Inuit genes aren't equipped to convert as great a quantity of long-chain fatty acids because they don't as much need it.
The general take on this research: There is no one best diet or nutritional bias for all people. If your ancestors are all from the 10 countries that make up northern Europe, for example, the study indicates you could be more likely better equipped to thrive on a diet having a higher proportion of meat. People of southern European ancestry, however, might do better with diets that lean toward plant-based foods.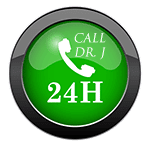 Chiropractor & Functional Medicine Practitioner ⚕Injury & Sciatica Specialist • Author • Educator • 915-850-0900 📞
We Welcome You 👊🏻.
Purpose & Passions: I am a Doctor of Chiropractic specializing in progressive, cutting-edge therapies and functional rehabilitation procedures focused on clinical physiology, total health, practical strength training, and complete conditioning. We focus on restoring normal body functions after neck, back, spinal and soft tissue injuries.
We use Specialized Chiropractic Protocols, Wellness Programs, Functional & Integrative Nutrition, Agility & Mobility Fitness Training and Rehabilitation Systems for all ages.
As an extension to effective rehabilitation, we too offer our patients, disabled veterans, athletes, young and elder a diverse portfolio of strength equipment, high-performance exercises and advanced agility treatment options. We have teamed up with the cities premier doctors, therapist and trainers to provide high-level competitive athletes the possibilities to push themselves to their highest abilities within our facilities.
We've been blessed to use our methods with thousands of El Pasoans over the last three decades allowing us to restore our patients' health and fitness while implementing researched non-surgical methods and functional wellness programs.
Our programs are natural and use the body's ability to achieve specific measured goals, rather than introducing harmful chemicals, controversial hormone replacement, un-wanted surgeries, or addictive drugs. We want you to live a functional life that is fulfilled with more energy, a positive attitude, better sleep, and less pain. Our goal is to ultimately empower our patients to maintain the healthiest way of living.
With a bit of work, we can achieve optimal health together, no matter the age or disability.
Join us in improving your health for you and your family.
It's all about: LIVING, LOVING & MATTERING! 🍎
Welcome & God Bless
EL PASO LOCATIONS
Central:
6440 Gateway East, Ste B
Phone: 915-850-0900
East Side:
11860 Vista Del Sol, Ste 128
Phone: 915-412-6677