Massage is a popular therapy used to relieve fluid retention, spasms, inflammation, muscle tension, pains and stiffness. Other benefits include improved circulation (blood and lymph), general flexibility, range of movement, and increased tissue elasticity (eg, scar tissue).
Another kind of massage contains full-body massage, which often leaves the patient feeling relaxed and free of anxiety.
How Can Massage Function to Relax Muscles?
As the therapist uses their hands or specialized tools to rhythmically knead, wipe, and stroke (effluerage) muscles, circulation is stimulated. Blood flow is essential to helping muscles eliminate waste products, such as lactic acid, that may accumulate in muscles from spasms and delivers oxygen and nutrients.
Following trauma, muscles may act as mini-splints like a cast on a broken arm to safeguard and limit motion. An average example is somebody who uses a computer for a prolonged time period without taking a break to stretch the neck. The result: a stiff, aching neck and occasionally pain. Taking regular breaks to rub (mini-massage) and stretch the neck will boost circulation to the muscles.
What's Swedish Massage?
This really is one of the most famous types of massage in America. Often, a lotion or oil is used to lessen skin friction. The therapist combines light stroking in one way with deep pressure in another to loosen muscles. The treatment expedites blood flow to flush uric acid, lactic acid, and other waste products from the muscles. Ligaments and tendons are stretched, increasing their suppleness. Nerves are excited and relaxed, and anxiety is relieved. The general goal is to loosen muscles.
What Is Deep Tissue Massage?
Long-term muscle tension is targeted by this technique. The therapist's strokes are slower, using more direct pressure and friction. Determined by the texture of the deeper layers of tissue and muscle felt, the therapist occasionally adjusts intensity, strokes, and their hand positions to work the tissues to release tension.
What Is Myofascial Release?
Myofascial release, or soft tissue mobilization, is a therapy used to release tension in the fascia. Fascia are sheets of fibrous tissue that encase and support muscles. Following injury, the fascia and muscles may shorten limiting the flow of blood. The techniques used in myofascial release loosen muscle tension and break up fascial adhesions.
What's Trigger Point and Myotherapy?
The treatment goals include alleviating muscle spasms, enhancing circulation, and releasing trigger points.
The therapist extends the muscle using a technique called Stretch and Spray as trigger points are released. This technique incorporates a superficial cooling agent such as Fluori-Methane, a local anesthetic that depresses nerve reaction. The anesthetic is sprayed over muscles as they may be softly stretched, soothing tight muscles.
Are There Other Kinds of Massage?
There are many kinds of massage; only a few are mentioned here. Shiatsu is an old oriental treatment predicated on acupressure, as is Jin Shin Jyutsu. Reiki is a Japanese type of massage that attempts to correct the entire body's energy. Rolfing can be uncomfortable; the goal is to adjust the muscle fascia to its fullest extension.
A Word of Caution
Speak to your doctor, before getting a massage for back pain or neck pain. She or he may have the ability to refer you to a licensed or certified massage therapist.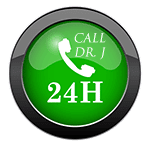 Chiropractor & Functional Medicine Practitioner ⚕Injury & Sciatica Specialist • Author • Educator • 915-850-0900 📞
We Welcome You 👊🏻.
Purpose & Passions: I am a Doctor of Chiropractic specializing in progressive, cutting-edge therapies and functional rehabilitation procedures focused on clinical physiology, total health, practical strength training, and complete conditioning. We focus on restoring normal body functions after neck, back, spinal and soft tissue injuries.
We use Specialized Chiropractic Protocols, Wellness Programs, Functional & Integrative Nutrition, Agility & Mobility Fitness Training and Rehabilitation Systems for all ages.
As an extension to effective rehabilitation, we too offer our patients, disabled veterans, athletes, young and elder a diverse portfolio of strength equipment, high-performance exercises and advanced agility treatment options. We have teamed up with the cities premier doctors, therapist and trainers to provide high-level competitive athletes the possibilities to push themselves to their highest abilities within our facilities.
We've been blessed to use our methods with thousands of El Pasoans over the last three decades allowing us to restore our patients' health and fitness while implementing researched non-surgical methods and functional wellness programs.
Our programs are natural and use the body's ability to achieve specific measured goals, rather than introducing harmful chemicals, controversial hormone replacement, un-wanted surgeries, or addictive drugs. We want you to live a functional life that is fulfilled with more energy, a positive attitude, better sleep, and less pain. Our goal is to ultimately empower our patients to maintain the healthiest way of living.
With a bit of work, we can achieve optimal health together, no matter the age or disability.
Join us in improving your health for you and your family.
It's all about: LIVING, LOVING & MATTERING! 🍎
Welcome & God Bless
EL PASO LOCATIONS
Central:
6440 Gateway East, Ste B
Phone: 915-850-0900
East Side:
11860 Vista Del Sol, Ste 128
Phone: 915-412-6677